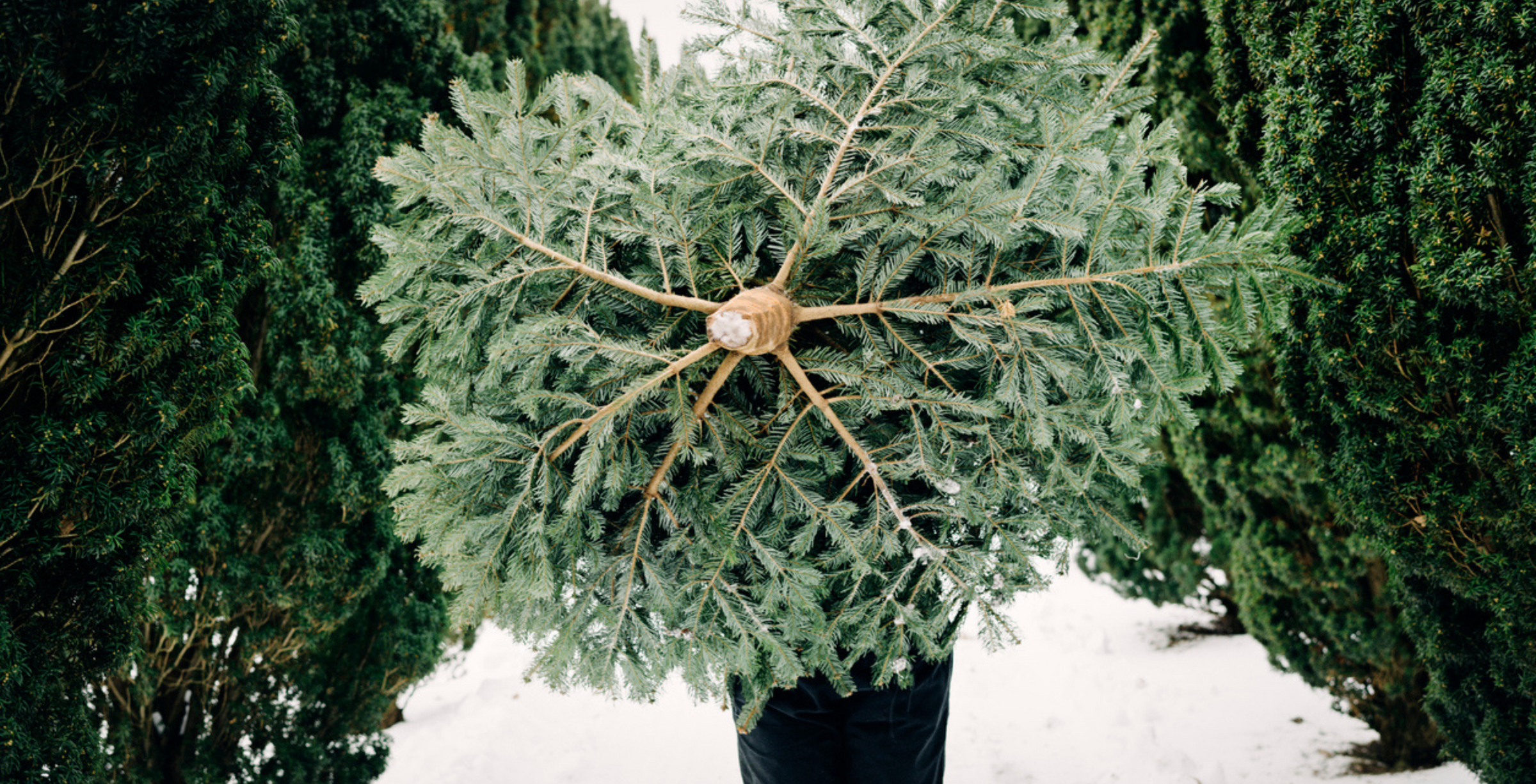 By Porter River, our family tree farm
It's all about the Tree
The day the tree is delivered and fills the house with the wonderful fir scent is the day Christmas arrives. Stringing lights, unpacking memories and creating more. The tree is the center of all of this and when it's a Porter River tree it's even better. It's perfect because it's grown on a small family-owned Canadian tree farm. It's fresh and delivered - not just to your door - but to your tree stand and professionally set up. It opens beautifully and lasts through the entire holiday season. Basically ordering a Porter River tree ensures that the day Christmas arrives will be a perfect day for making memories.
Our Promise
We create a positive habitat for the balsam tree, for the abundant wildlife, and varied and rich vegetation to all grow and flourish together in the most natural setting possible. Porter River is unlike other tree farms that are planted on clear cut land. Our trees are all grown in different stages mixed together in a natural forest environment, so it is never clear cut.
- John & Andrew
The Porter River Christmas Story
The MacIsaacs began farming Christmas trees on their Nova Scotia family land almost half a century ago, in the 1980s. Since then the family farm has grown to include three different properties and around 100 acres of Christmas tree land.
John and Andrew started farming as boys
Christmas tree farming is exceptionally labor intensive – particularly in advance of the holiday season. Harvesting a Christmas tree late enough that it will stay fresh for consumers but early enough that they can make the trip to lots across North America in time for sales takes effort and a whole lot of helping hands. Current owners and MacIsaac cousins, John and Andrew, started helping out before they were even 10 years old. They would drag the trees that were cut to the roads to be baled and transported.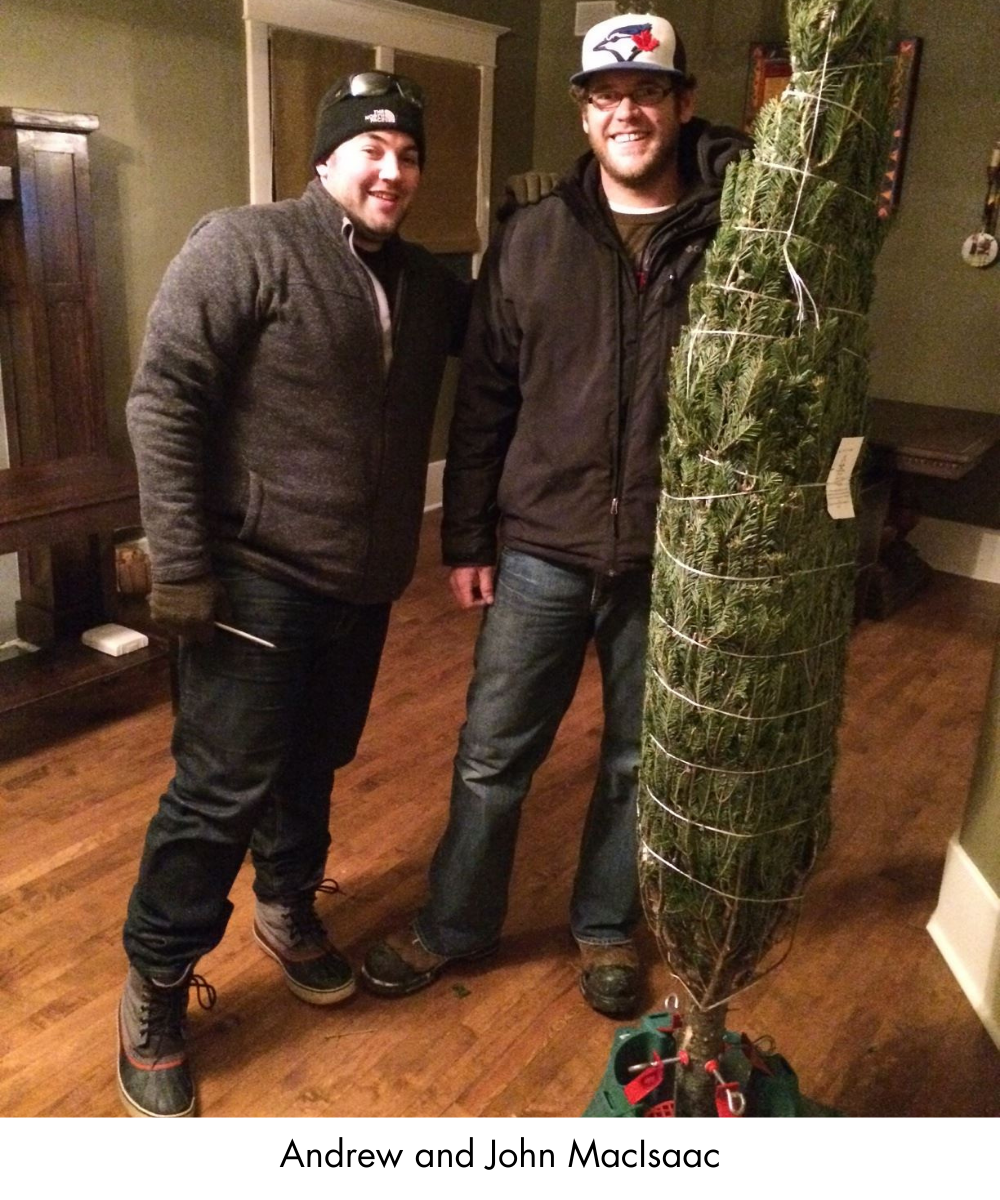 A troubled industry threatens tree farmers
As time went on Christmas tree production ramped up in North America, the markets became flooded, and prices for farmers plummeted. In the following decade, many local Nova Scotian farmers
went out of business. For those who continued to struggle through, Christmas tree farming became more of a hobby than a career. 
During this lull in the market, cousins Andrew and John worked full time off the farm and tried to maintain their Christmas tree business during weekends and vacations. Their efforts meant the
family farm was still producing high quality premium trees, but sadly they weren't able to make much profit.

Alberta sales on the horizon
By 2013, Andrew was working in Alberta and John in Nova Scotia. They knew they had to change up their business or their dreams of maintaining the historic tree farm would end. Andrew recognized
that Alberta had no natural fir trees and that the quality and freshness of many of the Christmas trees that arrived here were certainly below the Porter River standards.
With online shopping becoming popular, the cousins created a business plan based on serving the city of Calgary and surrounding area through an online shop, understanding that they could sell
more trees that way than by setting up a lot in a neighborhood. 
Calgarians fell in love with Porter River
Calgarians were willing to pay a premium for quality products and exceptional service. It quickly became apparent to Andrew and John that the people of Alberta are always working – between kids
and two full time jobs families really didn't have the time anymore to go out and choose their tree.

So, Andrew and John set out to make getting a real, premium tree as easy as possible for their clients.
We're Passionate About Real Christmas Trees
You should feel good about purchasing a real Nova Scotia balsam fir from Porter River for your family during the holiday season. Besides being so simple to order, our Balsam fir trees and wreaths.
The spicy and delicious fragrance of the balsam fir tree sets them apart from all other types of fir trees. And a fake tree can't even compete in the aroma category.
When your friends and family come over to your home or business during the holiday season, they will be greeted with a smooth, festive smell that will put everyone in good Christmas spirits. And they'll be shocked by the stunning beauty of your healthy tree.

We're obviously big fans of the real Christmas tree and here are a few reasons why!